It's official. After 12,5 years in this city – with its wonderful public transport, that is, INSIDE the "Ring" – today I lost an important aspect of my dutchie-ness.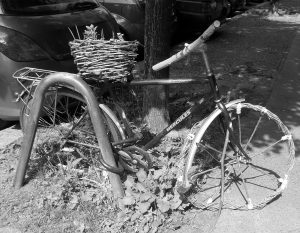 Wanted to see a gig in a nice location In Schöneweide/Lichtenberg. Outside the Ring. So, public transport is close tot non-existent after midnight.
So. I take my bike. 25 minute ride is nothing for a dutchie right?
No matter what weather conditions, right?
I DID get on my bike. Managed to get to Ostkreuz. Shitty rain, and fighting against the wind. Knowing I would have to bike for another 4km along a looong, straaaaight, road crossing an industrial park, and probably facing more wind straight in my face.
I turned around and went home… I actually turned around and went home.
Fck that Sht. I have become a Berliner. The kind of person who runs for the metro, even though the next one will be in 5 minutes. For whom the worst curse is "Schienersatzvekehr" (SEV, look it up…first page will be the Berlin Public Transport Company – BVG). Who efficiently waits on the platform there, where you know it will be closest to the exit when you get off. Who counts distances not in km, but in how far it is from the nearest metro station, and how many times you have to change trains. Who plans routes through the city by how many stairs you have to go up or down, not the fastest one, since there's usually at least 5 ways to get anywhere.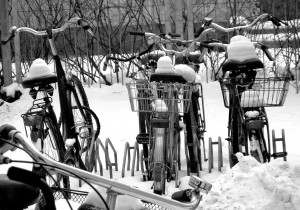 There was a time I didn't understand the question "till when do you bike?"
This has changed…
OMG.. this has changed…
I.. have.. been.. berlinerized…