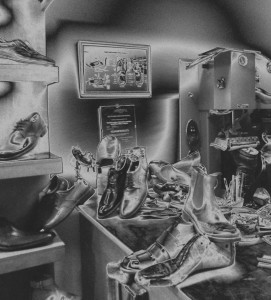 One of the things I like about Berlin are the "artisans".. not the artists, but the artisans, the crafters. Those people who do miracles with your old stuff, and whose eyes light up if you bring some "inherited" piece of equipment or material. Stuff, of which other, more "official", shops tell you: not worth fixing it, please buy our newest product.
Such as the analog camera I inherited a long time ago from my grand-dad. When I got it, I brought it to an official photographer shop. They told me: already the money you would have to pay us for opening it up, would be more than the camera is worth. So I let it dust away in my cupboard as a memorandum. Until I told one of my colleagues, a hobby photographer, about it, and when he heard it was a Leica, he immediately send me to an artisan repair shop nearby.
There, they didn't tell me, forget that old camera, here's our newest digital product. The shop-owner, who I suspected was close, if not over, his retirement age, opened the case, started whistling when he saw the camera. I could see he could hardly wait till he would be able to bring it to his "laboratory". Three days later I could pick it up. He took the time to let me hear the sound the shutters made, showed me how innovative the light meter on top of the camera was, the mechanism of the film transporter, and in general, what a wonderful little piece of pure mechanical, no circuit boards involved, machinery this camera was. I showed him a separate objective which came with the camera. He scratched his head and asked: "may I? You got 15 minutes?", took it back to his laboratory, handed it back and said: here, it's completely dust-free now.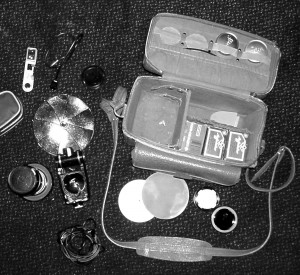 No, free of charge of course. From the corner of my eye I saw his much younger colleague (daughter?) sigh and shake her head. There was more stuff in my grand-dad's camera case, including some unused films from the 50s or 60s. Totally unusable by now. Those films now are an exhibit object in this shop's display window.

This Cow Died Almost 100 Years Ago

Another object I inherited is a long, leather motor coat my grandma used to wear in the 1920s and 1930s sitting behind my granddad on his motorbike. The coat is heavy, it weighs close to 15, if not 20, kilos. It's very thick leather. But it's warm, and utterly cool looking. Though too big for me. So it was gathering dust, cause when I went to a leather shop to ask how much it would cost to make it my size, it was way over my budget, and indeed, at least 3 times as much as a new leather coat would cost.

Until I moved here. Again, I looked at that coat, such a beauty, such a pity. And too much sentimental value to give it away or even sell it. So I thought, what the heck, and searched for a leather worker here in Berlin. Found one close to where I live, and dragged the coat with me. Unpacked, it resulted in quite a few exclamations from the shop owner, and another artisan was dragged from behind her sewing machine. Such LEATHER. They just don't make it that way anymore. People like thin, supple, leather nowadays. The shop owner shook her head, tut-tutted and dismissively waved at the new leather coats hanging in her shop.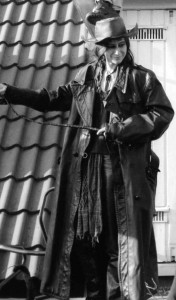 Yes, of course they can make it fit my size. The only problem might be the machines can't take that good, thick, quality of leather. Nowadays, we're simply not prepared for it anymore. But… She looks down at the coat, and tentatively feels the leather again. Again, she mumbles something like, they just don't make it this way anymore. She looks up and says: I have to try, I simply have to. So she takes my measures, which takes sometime, since she's very precise. A week later, I can pick it up. Perfect fit. And a bit lighter too, since I am skinnier than my grandma. I leave after a lecture about greasing leather. But, nothing beats how that coat keeps me warm during the harsher days of the Berlin winters…

Re-Tired and Re-Soled
Sometimes, there's stuff I didn't inherit, but just love, because it lasts me a long time. Such as my bike. There's a dutch bike repair shop in Berlin, where "my" bike hangs on the wall as a museum piece. Where, if I go there, at least 2 of the guys wipe the oil of their hands and, almost drooling, point out the drum brakes to each other. Where I almost always get advice, or some second-hand replacement part, for free, just because they love the fact I'm still keeping this piece of history in good working order. And if they charge anything, it's not much more than the material costs.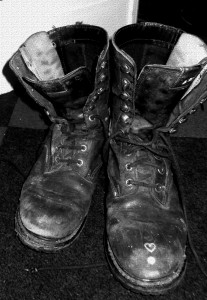 Or like my trustworthy big leather boots. After 10 years of good service, and 3 months of oil & rust after working on something also build-to-last, a 50 year old DDR-high-sea-fishing ship, now serving as an alternative music venue (and still sea-worthy), the soles of those boots cracked, straight down the middle. I went to 5 normal shoe repair shops. They all shook their heads. Way beyond repair.
Until I found on the internet the address of an orthopedic shoe maker. I went to his shop. A stooped, older, and very, very grumpy guy wearing a leather apron lets me wait for quite a few minutes before coming from the back. He looks me over critically and tells me: I don't DO shoe repairs, I'm a crafter, a specialist, a maker of shoes. I start to look sad. He's my last hope. Those boots have lasted me 10 years. His quite bushy eye-brows go up. 10 years? he asks. Let me see them. So I take them out. He slides his finger over the stitches. That's good craftsmanship, he admits reluctantly. Ok. Leave them here, two days.  So I come back in two days. There are my boots. Shined up to the max. He straightens his shoulders, rubs his thumb along the side of the new soles, looks at me, and there's a hint of a smile on his face. They'll last you another 10 years now, he tells me proudly. I burst out in thank yous, but he waves me out of the door, bends down to his next project "it was an exception, ok? I don't do shoe repairs". When I leave, he looks over his shoulder: just take good care of them, grease them regularly, will you?
Wobbles And Knobs

Today I brought my old amplifier to a repair shop, because the socket for the phono input was doing weird stuff. I talked to the guy on the phone beforehand. Yes, of course he can fix it, he can fix anything. Of course, he'll give me an estimate what it costs. So I unplug my amplifier, wrap it in bubble plastic, and step on my bike, and 1500 meters further, in between a vegan restaurant and a shop selling exclusive designer bags, is a dusty shop full of cables, spare parts, and reassembled hifi equipment.
I step in, and an elder guy in a blue coat with glasses comes from the repair room behind the counter "ah, you phoned. Let me see her". He carefully unwraps my amplifier, and, almost caressing it, immediately brings it to the repair room, starts plugging it in, wobbles with the knobs, and agrees with me, yes, the old stuff is so much more reliable and long-lasting then the new stuff. IF you take care of it. And he starts telling me anecdotes about what he all found in amplifiers and tape decks. He quickly gives a preliminary diagnosis of the problem, and tells me, he'll phone me tomorrow to give an estimate of the costs, and how long it will take. Repairing will be quick, but waiting for spare parts might take a bit. I immediately feel like my amplifier is in good hands, and tell him about the old Thorens record player I recently got and which needs a bit of love (& cleaning).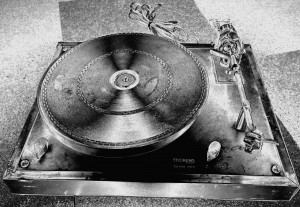 His eyes light up even more. Though, he's skeptical. Thorens is a name, a label, not all is as good as the name pretends. But yes, he's more than willing to check it up, clean it, bring it in good state, give the mechanical parts a bit of grease. Max 60 euros, if nothing is broken. And yes, he's fast. He starts telling me about DJs from Hamburg or Rostock who travel to his shop. With sparkling eyes he gives some anecdotes about what state he found their record players in. Proudly he says, he can repair almost anything. And fast. And good. And lasting. Good-as-new. IF you take care of it after it has been through his hands, of course.
The Crafty Fifth Column
These artisans, these professionals, are the silent force opposing – and opposed by – "planned obsoleteness". They are threatened in their existence by a culture of throw-away technology. Where the warranty of a new camera or telephone is no longer than two years max, and even the bigger shops tell you: it prolly won't last much longer than those two years. "Here, buy our newest product".
I know. What they charge me to repair my stuff, simply does not cover the actual time they put into it. These are people who work with their hands. Who love when something of good quality comes into those hands. Something they can appreciate. Who truly take pride in their job. When they can bring something into, or close to, its original state. Technology, or craftsmanship which make their eyes light up, and, even with the most grumpy ones, makes the corners of their mouth go slightly up.
They hate doing shitty jobs. And if you bring shitty stuff, no matter how much quality work you put into it, it will still be shitty stuff afterwards. So yes, if you bring them quality stuff, they, albeit sometimes begrudgingly, love you for it. One of the – only – ways you can repay them (cause they usually undercharge you…) is to respect the quality of the product, and the quality of their work, by taking good care of it. And that's what they'll tell you again and again: take good care of it.