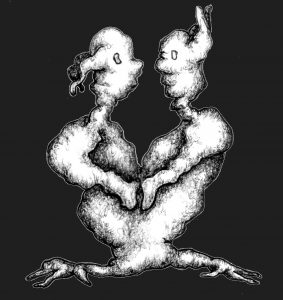 One of the weird things living in an international city is what happens to languages. How they shift, merge, mix, and get combined in a 100.000 different ways. How this on one hand improves your language skills, and you start recognizing languages, even when you don't speak one word. And on the other hand, you tend to lose the skills in each language by itself. Because. You start combining yourself. The languages merge in your head. Or because some words from a language are simply untranslatable and you need that one specific word to describe exactly what you mean. 
During my shift at the free shop, I take a small cigarette break outside. One of the many people bringing stuff pops outside quickly. Points at my shoes. What size do you have?  "38" She grabs into the bag she's carrying, and takes out never-worn sport shoes "Here, for you, you take them". Pushes them into my hands. I smile, sport shoes aren't really my thing, but I appreciate the gesture. She goes through the t-shirts we have outside, looking for something for her 15-year old daughter. Tells one of our regular guests her daughter is much bigger than her. She's vietnamese, the daddy is italian. "He's a BIG daddy, so I have a big daughter, much bigger than me". The other customer asks what language they speak at home. "Well, german of course". "You didn't teach your daughter vietnamese?" She shrugs. "We live here now, no use for my language". She asks me how old I think she is. I'm really bad at estimating anyone's age (and I don't care anyway), so that's what I tell her. "Ah, that's always what people tell us asian people, that they can't tell our age". She shrugs again, this time at the prejudice, it's just how it is.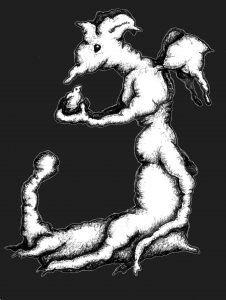 Just a sunny day at Tempelhofer Feld. My family is visiting, and we've decided to take the kids for some biking, skate-boarding, kite-surfing, and well, anything else you can do at an old airport-made-free-space for all. While we walk around the collective garden, a young kid climbs one of the self-built constructions in that garden, a wooden airplane. In a mixture of german, american-english and chinese he starts pretending to be the pilot. Mummy and daddy arrive, combining words from the same languages. After we leave the collective garden, we walk past the barbecue area. Where, no matter were people are born, or wherever their parents or grandparents were born, they have all adopted the favorite german summer hobby "Grilling". A few Roma families have started early by roasting whole pigs. One of their small dogs starts running with us, his not-so-skinny owner trying to catch up. We fetch the dog and give it to him. Hearing him "tut-tut"-ing and scolding the dog in his own language while carrying it back. We stop at a coffee stand, where the guy serving the coffee easily switches between italian, german and I guess russian, depending on who he's serving. When we walk away, I ask the kids to listen to the people around them, and tell me how many languages they are hearing. After one hour, they give up counting.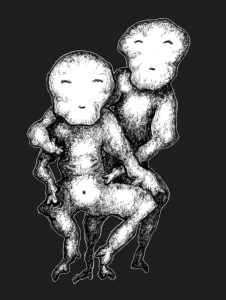 In the back of the free shop when hanging the t-shirts to the t-shirts and the pants to the pants, I overhear some broad-shouldered guys going through the children's clothing. They keep repeating "dobre, dobre". Since this is the first word I ever learned in serbocroation/bosnian,  I can't help to ask them what language they are speaking. We're from Serbia, they tell me. Stop themselves: "but we're not serbian,  we actually have our own language, but we also use many serbian words". When I tell them I'm planning to learn serbocroation, and happy I at least recognized the language, they smile. "It's a beautiful language".
A woman comes in looking for black shoes and black pants. It's not for her, but for her afghan friend. He's looking for a job, has been invited for a job interview and wants to look smart. We go to the shoes and the pants department together, and find some, but she's not sure about his size. I notice when she talks about him, she suddenly loses her german language skills, and starts using Farsi words, though she's most certainly a native german, from Sachsen if I'm not mistaking her accent. In the end, she decides he better come to the shop himself to try the stuff on, she'll come with him to translate.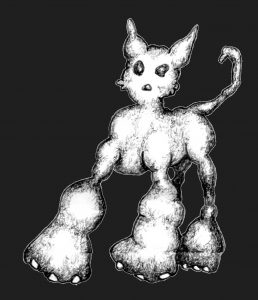 While passing through the – rather full again – shop, I hear one of our older customers compliment a younger one trying on a beautiful velvet jacket. She excuses herself, she's portuguese, her german isn't that good yet. The older woman just automatically switches to english, repeats the compliment, and they discuss the problem of having a cat and velvet clothing.
I always like to play some weird music from all over the world when I do my shift. When I play some music from Lapland, a huge smile appears on the face of one of our guests. She hasn't heard yoiking for quite some time, and starts singing along in Sami. Another time, when I was playing some music from the balkan, I couldn't help dancing a bit, and one of our regulars, who likes the irish line-dancing starts wiggling her toes. While we combine my tribal fusion moves and her irish steps, from the corner of my eyes I see how the faces of a few women from somewhere south-east of here light up, and they stop going through the clothing and, giggling a bit, start moving to the music too. The language of dancing is universal, even when the moves are like different accents.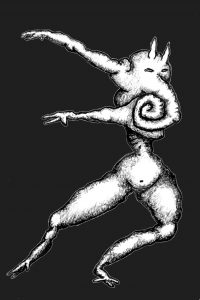 It's always fun to surprise people by starting to talk to them in their own language because you recognize the accent in their german. Especially a not-so-common language like dutch. The short confusion on their face followed by a happy "what? you're dutch?" is worth it. At work, some of the projects which I take care of like to surprise ME though, when they recognize the dutch accent in my german, and practice the (sometimes little, sometimes a bit more) of dutch they know. One of those people told me, though being german himself, he has a dutch wife. Funny how recognized where she was born because of the accent he had in his dutch (except the german one of course).
On a random friday at the free shop, I made some fresh peppermint tea with the herbs I saved with foodsharing the day before for our guests. Unfortunately, it's not that popular. On a regular basis, people start telling me what kind of OTHER mint, from moroccan to vietnamese they prefer. Just not regular peppermint. In the end, a discussion arises between our guests how many sorts of mint there actually are, but the tea stays undrunk. Next time I'll mix it, just like the languages we use.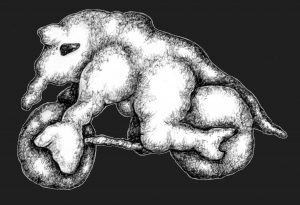 Just after I close the Free Shop and start the cleaning and sorting, I hear a knock at the window. Two kids around age 12. I point to the sign, and say, sorry, we're closed. They look a bit disappointed. But ah well. I go back cleaning. They persist in knocking. So I open the window. They point to a nice blue and yellow bike behind them. "We want to give it away". I have to tell them we don't have enough space for bikes. Oh. Disappointed faces. "We tried to give it away, since it's such a good bike, and we've outgrown it. But everyone thinks we have stolen it." They shrug, used to being misjudged: though speaking perfect german – except for the heavy berlin accent – they're not exactly blond & blue-eyed. I go into the back, take a piece of paper and a pen. "Here, write "for free" on it, and park it against the fence over there, it will probably be gone soonish". "Can't you write it, we're not german" "Neither am I". Smiles on their faces. "You're not?". I laugh. This part of Berlin, how many people here are german, I wonder aloud. They start laughing with me. I write the sign for them, they stick it to the bike, park it against the fence, and themselves on a bench near it. Waiting for it to be taken. When I leave the shop, both the bike and the boys are gone.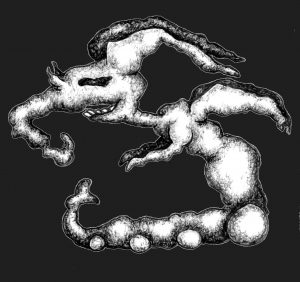 Heading home, I pass the local squatting pub. I hear people discussing their favorite bands in german, english, spanish, french and dutch. The sign of the irish small restaurant on the corner advertises its meals in english with some  german and french words randomly put in between. I do some quick shopping. A woman and her boyfriend are discussing what food to take for their dog in a mixture of italian and swedish, sometimes falling back on another mixture of english and german to avoid misunderstanding. Outside the shop, a few guys balance their skateboards on the handlebar of their bike, stop to buy some mate. At least, that's the only word I definitively recognized from their conversation, the rest was some kind of combination of at least four languages, which I stopped trying to match with the language patterns in my head.
Taking a shortcut through the park, a few adolescents rap along to some german hiphop music with a turkish accent. On the grass, a group of ravers is having an intense political discussion in english. I recognize at least a greek, a polish and some scandinavian accent in their english, and it's littered with german words when they can't find the right word in english. I pass the senior hooligans in their corner of the park. Where the differences between russian, hungarian and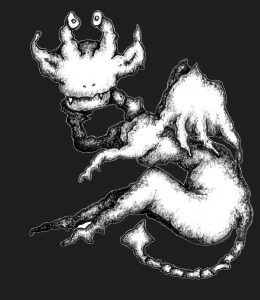 original berlin, or about which football team is the best, are smoothed out with cheap beer.  I greet the woman from my favorite evening shop, who stops talking to her friend in thai to say hello to me in german. At a recently opened little lunchroom, the owner corrects his dog sniffing another dog's behind in arabic, before continuing to serve his customers. They are using yet another language – one I can't place, indian? – between them. Coming home, the preparation for the african mass in the church behind our backyard has started, and through the open window I hear the preacher switching between english and french, both with a heavy african accent.
And at the playground, the kids don't care about the languages, they just create their own.
Note: all doodles made by myself when enjoying the parks or getting transported. See Twisted Kritters if you want to see more of them.