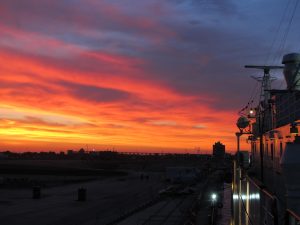 The G20 is over. The aftershock, not only of what happened inside the luxury chambers, but especially what happened outside the sealed-off area, might linger a bit longer.
In the mean time, there's screaming all over the internet, the papers and among politicians. About the burned down cars, the smashed windows. Screaming of the mainstream, that "the left" should condemn the actions. Screaming from the "other left" how a few ruined the chances of many to make a point. Others screaming that bombs are far worse than a few burned out cars, so what the Hell is everyone screaming about.
And I sit here in my neighborhood, gnawing my knuckles.
Hell's Bells
Nope, I was not in Hamburg. Every "fact" I mention here either comes from the news, the big bad internet, or (woohoo) hearsay and rumors.
Nope, I didn't go there to protest. Though everything the G20 stands for is a reason to protest. Climate change, the kind of political and economical deals which are made there, it's a lot of issues I care about. Not to mention the fact a part of the city was hermetically sealed of, because of "security reasons", and basically, human rights were switched off inside that area. Something I can't stand.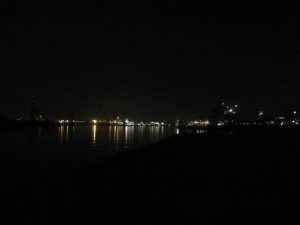 Already weeks before, it became clear the people in charge were not keen on a strategy of "de-escalation". The police boss in charge is known to be a hard-liner, and it showed. A little tent camp of people gathering for protests became the focus point of both physical, and juristic, confrontations. Also on the non-authority side things happened which weren't really signs of peaceful protest . The first expensive cars were burned down, for example.
I have to admit, though I hate violence, most definitively against people, but also against objects, my reaction to those actions was *shrug*, that's what you get when organizing something like the G20 a few 100 meters from an alternative neighborhood. If you want peace & quiet to make your deals, grab yourself a luxury castle in Bavaria or something. Plenty of those available. Already organizing the event exactly at that spot, and next sealing it hermetically off the rest of the city, was seen as a provocation by many, and not just the "lefties".
Both in the city itself and in the media, the voices became louder, and more and more polarized. Even creative and artful protests such as the "1000 Gestalten" couldn't change that anymore. The tone was set. Quite a few people I know had something like "Going there? I don't feel like getting beaten up".
So yep, the first layer of skin on my knuckles was already slightly damaged before the G20 even started.
Pushed against Hell's Walls
I thoroughly began gnawing my knuckles after seeing how the "Welcome to Hell" demo was forced against a wall, people scrambling up that wall while part of the demo was being blown apart by water cannons, pepper-sprayed, and randomly charged by the police.
Now, the first stories I've heard was that it was all about the "mask ban" here in Germany. Bit of background: this is a law, which makes it a crime to make yourself unidentifiable during a demonstration. As in, wearing a scarf, sunglasses or even a red clown's nose. And a crime. Not some petty offense, but a crime. As in one, where you can go to prison for. The reason why you are wearing a scarf, be it to indeed plan something really really criminal, or because it's, well, cold, are not important anymore.
Hiding your face is a crime, and you should, and will, be arrested for it. Worse, some cops even feel it's their duty to arrest you because you are hiding your face, and will charge into a completely peaceful demonstration to grab that one person who, maybe even for a few minutes, put a scarf in front of his mouth. I've witnessed this more than once. And I think the use of that much force for something which, in my humble opinion, should not be considered a crime, is most definitively excessive. What happened at the beginning of the Welcome to Hell demo was excessive.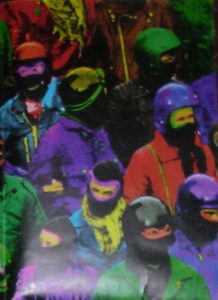 However, maybe because of that often violent reaction of  "Daddy State", it has become a sort of, well, statement, to DO hide your face. Especially the so-called "Black Block" likes to make that statement over and over again. And dress in black (nothing wrong with that). And, indeed, march almost looking alike in a dense block, closed in by banners. So they can't get dispersed easily. And yes, it looks scary from a distance.
Now, there might be occasions where this serves a purpose. Especially in other countries. From the Black Block with its masked, uniformly looking people, people actually take action outside the demonstration and then dive back in for protection. You might or might not agree with the action (sometimes no more than spray-painting a wall), but the strategy is effective. And it's not only useful, but even necessary, in more totalitarian states, where just taking part in a peaceful demonstration might endanger your life. So better hide your face, better hide in a group.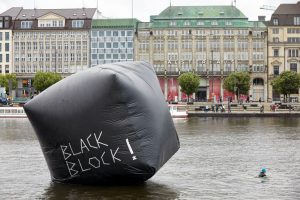 But here in Germany? Excuses to all the Black Block people out there, but. It has become a statement. A demo is not complete with the Black Block marching up front, shouting slogans, and holding on firmly to those banners. Oh, it does have its uses as a "buffer" between the peaceful demonstrators and the police. But the whole densely packed, almost identical looking, group up front nowadays causes aversion even with people who would side with the "cause". On the other hand, the whole "panicking" in the media about the Black Block is so utterly pathetic. If I'm really sarcastic: the Black Block has become a bit the Scouts of the left scene.  In short, it's more than slightly overrated.
The videos of the Welcome to Hell demonstration also showed exactly the weak point of the Black Block. Because they stick together. And keep sticking together. While behind them, the demonstration was broken up, and the Black Block was slowly but steadily forced up against the wall.
Later (hearsay) I've heard rumors the police charges weren't aimed so much at the "Black Block" but at the Kurdish people right behind them. I don't know if it's true. And I really have no clue why the (Berlin) police charged the Kurdish people. But it broke the front of the demonstration, and set the mood for the rest of the weekend. Even though the demonstration went on – peacefully – ahead after this.
Well, let's be honest. No matter how disciplined you behave. No matter how non-pacifist and full of resistance and power you feel. No matter how much you shout, or sing songs to keep the spirit up.
Daddy State has more resources than you. They have more vehicles, weaponry, gas, and can keep pouring in more forces. And will use those forces. Forces who might be individual human beings, but not in that situation. They have given away their individual responsibility, their conscience to a line of command.
Unless you are capable, and willing, to use the same amount of force as Daddy State, militarizing yourself is not a real option. The last thing anyone wants, is a full blown civil war in the middle of what is actually a peaceful demonstration. No individual in a demonstration wants that on their conscience. The only other option is indeed non-violent resistance.
And get beaten up, bruised by water cannons, poisoned by pepper-spray and so on. Indeed. It was not for nothing even in mainstream media the discussion about the excessive use of force started.
So, the skin on the back of my hand was slightly damaged, but at least something good came out of it, that discussion was long overdue.
Enter Hell
Gnawing away, I started reaching the bones of my knuckles, when I saw what was happening in the "Schanzeviertel". And the not-so-immediate reaction of "the authorities". I was shocked to see the images of cops with machine guns "securing the area" house by house, pointing their guns at people standing in the window.
Why are my knuckles bleeding by now?
Because the neighborhood I live in isn't that much different than the one in Hamburg. It's a poor neighborhood with lots of people coming from different countries. Lots of strange artists and musicians. Weird little shops, "house projects" and quite a few DIY-initiatives. A bit of a free zone.
And our little neighborhood is subject to gentrification. Because, you know, those weirdos make an area lively. Pubs, clubs, shops and small initiatives pop up. Making it more interesting. So people want to move there. So investors come. Rents are raised, or houses are for sale instead of to let. And the newcomers start complaining about the mess, the garbage, the alcoholics, the homeless, the music on the streets and in the pubs, the graffiti, well, everything that comes with a lively neighborhood. So the people and the initiatives are forced to leave. Can't afford the rent, pubs are closed.
And there's protest against it. Just like in that neighborhood in Hamburg.
Occasionally, an expensive car is burned down. Or stones fly when "the authorities" are trying to take control. Just like in that neighborhood in Hamburg.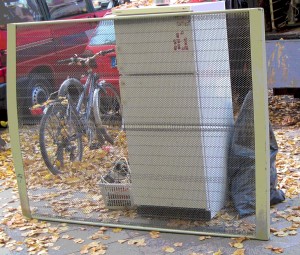 We had house searches where dangerous materials such as fire extinguishers were confiscated, just like in Hamburg when toilet brushes were confiscated. (if you ever wonder why people hold toilet brushes during demonstrations, it's because they have been confiscated as "dangerous weapons" in the past).    We've had the "danger zone" with 300 riot cops stationed for months in front of a house project because there were lose "suspicions" there was some kind of link between that house and the burning of cars.
All this kinda stuff was also happening in that neighborhood in Hamburg. The good stuff as well as the bad stuff.
Would the G20 been held 200 meters from our neighborhood, the chances would have been huge the same things would have happened here.
After the demonstration and everything building up, tenses would have gone up here too. Now rumors say the whole car burning and shop smashing was a deliberate action, where only big supermarkets and rich man shops were a target, no small shop owners were attacked. I don't know if this is true. And not that this makes it ok. But it wasn't just a wrong way of anger management. Other sources, including a few of the shops being attacked, state it wasn't the alternative scene doing the really bad stuff, but drunk partygoers. They even state the so-called black-block people tried to prevent damage to small shops (sorry, post is in German, but if you can read it, do… it's one of the most sensible reactions, and from people directly facing the consequences.)
Also here, there would probably be rumors about molotov cocktails and sidewalk tiles lying on roofs. It is still strange with all those rumors and the authorities waiting for army equipment to go "secure" the neighborhood, not one molotov cocktails has been thrown, or a tile fell down. But who am I.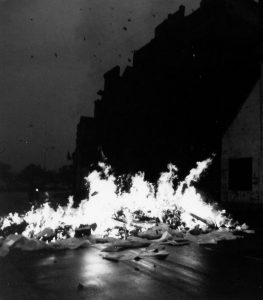 There probably would have been improvised barricades here to. Ok, now I'm not a professional, but to be honest, those barricades looked not really effective. Bit of wood, a thin fence or two, maybe a piece of furniture. *Goes into grandma mode* In the old days of the squatting movement, barricades actually held. Sometimes for days. They consisted of for example long steel wire hammered in between the houses, were at least 3 meter high and firmly build in a short time. And only burned when the "enemy" started approaching. *grandma mode off*.
I've seen plenty of these "barricades" at May 1st too. When you watch a band in Kreuzberg, smell a bit of burning plastic, see the "barricade", turn around and watch the band again, every now and then taking a step back to let the riot cops run free.
I'm not saying it's ok to do this. Or burn cars. Or smash shops. Heck, I wouldn't have liked to see my neighborhood turned into that kind of mess. Like a friend of mine once told people lightning up a garbage can on May 1st: "do you really have to mess up our neighborhood? If you're so fixed on burning the rich, go burn the rich." (which utterly btw, they actually did in Hamburg). The usual mess we have is fine, including the dog shit and the heaps of rotten garbage, but I just don't like the smell of burned plastic, or the risk of collateral damage when cars are burned down.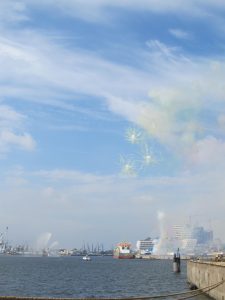 Now, except the fact I wouldn't like it when somebody burned my bike down (I kinda depend on it), and my general aversion to violence,  I don't see why a few individuals would have to be "punished" for something which is a far bigger thing. I also have my doubts if it would really stop gentrification. If it would keep my rent low, well, I would probably secretly support it. But I don't think it matters. They'll just park their car somewhere else. Heck, I actually know of one of my friends, – no, without much money – who left the neighborhood because of multiple reasons, but one of them was being afraid of collateral damage of a car burning down beneath her window, the other one was witnessing a squat being evicted, and people being beat up shitless by the cops beneath that same window. So it might actually have the opposite effect.
So, no, the end doesn't justify the means. Especially since I have sincere doubts if those means would make a difference.
However, the reaction of "Daddy State" was pretty frikkin scary. I was glued to my monitor. Reading every live report I could find.
I could identify too much. Could imagine how it would be if uniformed cops in full riot gear would march into my street as if it was a war zone. Holding machine guns. Pointing them at windows.
I'd be scared out of my wits. And angry. Really really angry. Not with the people making the mess (honestly, though I do feel sorry for the owners of the damaged property, the actions itself I find mostly bloody frikkin stupid). But angry at the over-reaction of Daddy State.
Because, to be honest? Except for the so-called "political background" of the whole thing. I would really like to invite all the parties to an average New Year's Eve in Rotterdam Zuid. No, nothing political about it. And yes, cars burned down & shops were plundered, so it was not just common goods. But the mess after that one night of "party' is a multitude of what happened in Hamburg. Or even the worst May 1st in Berlin. And the solution there and then was to just let it burn out, clean up and repair (or not… some bus stops never ever got replaced) in the days & weeks after.
So the reaction of Daddy State was, again, excessive. Probably because it was political, and not just some random party night gone wild. Erdogan probably felt at home indeed.
And I gnawed my knuckles down to the bone.
Beyond Hell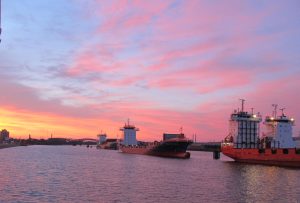 The weekend is over. Wounds are licked. Streets are cleaned.
Humor kicks in. Yes, contrary to common belief, Germans do have a sense of humor. Like posting a picture of a street in the Schanzenviertel with people shopping, kids & musicians playing, and the caption "look at our neighborhood in Hamburg near Aleppo/Syria, it will never be the same!" Or a meme of "Je suis Auto"
Unfortunately, these are exceptions.
There's a lot of confusion. A lot of accusations. From all sides.
There's a lot of screaming. Pointing fingers. Condemning. On all sides.
The willingness of Daddy State to use this much excessive force scares me shitless. Especially the machine guns. It takes it all to a whole new level.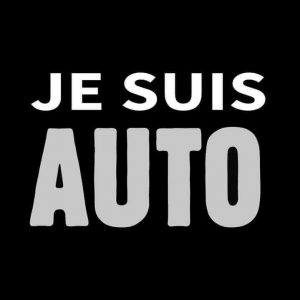 But the worst is yet to come. Already in politics the discussion has moved from that excessive force to deeming what happened in the Schanzenviertel as a "terrorist action". Putting burned down cars and plundered shops on the same level as killing dozens of people. Screaming for more "screening" of would-be activists. Of exchanging databases with other countries. Taking profiling, and therefore, being guilty until proven otherwise, to a whole new level.
And this means I'm now slowly running out of knuckles to chew on…