Another set of impressions of the beauty of small lives hiding in the darker corners of a metropolis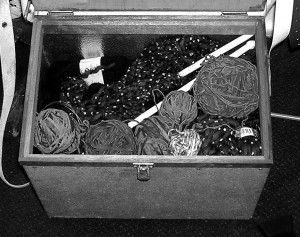 In the free shop, from the corner of my eyes I notice two of our regular guests exchanging a piece of clothing. One of them is a fanatic knitter, always scanning the shop for left-over pieces of wool. She shows a sweater which the other customer liked, but which was just a bit too short, and therefore put back in the racks. The knitting lady secretly took the sweater home,  found a matching color wool, and made the sweater just long enough. Now she surprises the other regular with the finished product.
One of the alternative projects organizes a small protest against gentrification in front of their "shop". It rains, an icy rain, and people dance with their scarfs pulled up to their noses, gloves and beanies on the jungle beat. One of the regular, more run-down-looking, guests of the foodsaving brunch passes by, asks me what is going on. He introduces me to his boyfriend, a far younger, tall, and good-looking blond guy. Just as I wonder about the combination of the two, the older guy quickly continues: "you know where to get a beanie for him for free? His ears are freezing, and he doesn't own one". Only then I notice the slightly absent look in the eyes of his companion and realize who's taking care of who.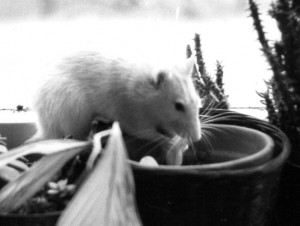 On my way to work, I see a plain looking lady with her – obviously mentally disabled – daughter sitting on a bench, waiting for the Ubahn. In front of her feet, there's a huge cage, with a small white & black rat feverishly washing itself. Next to her daughter, there's another cage, full of straw and probably also full of cuddles. Walking along the streets near Checkpoint Charlie on the way back, I see something moving from the corner of my eye. I look, and there's a tiny little brown mouse, looking back with beady eyes. Must be rodent day today.
During the foodsaving brunch at the end of the month it is busy again. Many of our customers have a bit of month left after the end of their money. One of the guys tells me, we saved him again, he hasn't eaten for two days. Another guest counters: Berlin isn't a city at war, you can always find food here. I just politely step out of that discussion. A bit later, one of the other regulars brings me a gift. I always walk around with lots of black markings (I don't call it make-up, too many people ask me if those markings are tattoos…), so she presents me with an eye-pencil, and look, it is even still packaged. I'm very happy with it, because maybe it's a small gift, but she obviously got hold of it thinking of me (though I actually don't want to know how she obtained it.. I'm afraid she took an, albeit small – risk for it).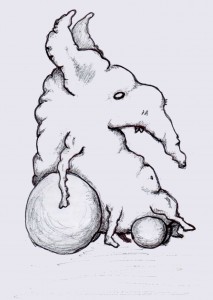 Doodling one of my twisted kritters in the metro coming back from a noise gig, I notice the guy on the opposite bench secretly glancing at my paper. When I get up to catch the next line, he shouts "wait", fumbles in his backpack, and hands me a flyer of another music event the next week. I look at it only when I get out and just have to laugh: how come in a city of millions, a guy looks at my drawings, and gives me a flyer for an event with experimental and industrial bands I happen to like. Not exactly mainstream, if 100 people attend to something like that, it's a lot.. so this is just a bit too much of a coincidence. Just before the doors of the metro close, I walk back to stick my head around the corner "I was already planning to go there, but thanks".
There's a huge protest against the "danger zone" which was forced upon a part of the neighborhood a few weeks ago, resulting in dozens of cops invading squats, stopping people to ask for IDs, closing off streets and a general feeling of unease towards this "surveillance" from the people living here. Surprisingly – also for the organization – a couple of thousand show up. The atmosphere is peaceful and joyful. I watch someone I know making soap bubbles for the refugee kids hanging over the fence of their "emergency shelter" in front of which we gather. They don't really have a clue what the demonstration is about, but sure are enjoying the soap bubbles. Afterwards, I realize you shouldn't breathe in those bubbles when trying to catch them in your mouth. Still coughing up a soap mixture hours later.
In the free-shop, one of the regular customers shows me something undefinable she found, and asks me if I think it could be made into a lamp. She can't do any "real" work, she tells me, but, well, you have to get under the people, so she spends her daytime at a "disabled center". She's always looking for stuff she can rework in something else, then brings it back to the shop. And after more than 15 years of "well.. it's a way to stay social, sitting at home is so boring" she has become quite capable in upcycling stuff. I don't think she realizes she has been pioneering a recent trend among the more well-off citizens for such a long time. But well, she doesn't really have a choice: her creativity is caused by being poor.
Berlin. The end of winter. But still winter. Not that Berlin people care. February is still here, and already the smell of smoke of a campfire lingers in my hair. Walking past the Boxi square with minus 5 or so, I hear music coming from a group of people playing while sitting on the swings and the slide of the play-ground.
On one hand, yes, there's literally murder in the streets: a guy bleeding to death after been stabbed by unknown people right in one of the busiest club areas. A gang racketeering a small underground club for "protection money", so the people decide to stop their events, cause it's not safe. Cops finding all kinds of excuses for breaking into an alternative project and confiscating dangerous goods such as heating-coal, fire-extinguishers and small bags of garbage. It's like the alternative scene is being squashed between organized crime and "law and order". On the other hand…. in the little dark and hidden corners, where people sometimes have no choice but to be resourceful and creative, dreams and ideas are kept alive, solutions are found by cooperating and making use of what is at hand. Just like the little rodents which you almost accidentally find in unexpected places at unexpected times, it's hard to exterminate dreams and ideas. Thank goodness…