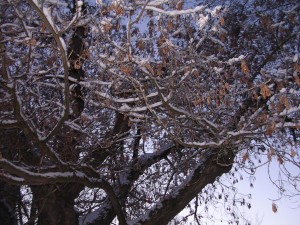 Winter isn't just coming, it has arrived.
I never was a big fan of winter. My body is badly isolated by itself.
But ever since I started living in this city, I truly started hating it. Not just because winters are colder here (they are….). But how it transforms this city, its people. Hibernation strikes. People hurry from the metro stations to the next warm place, and don't stop to talk or look around. They look at the ground, to plan their next step without slipping, and don't smile or are open for their surroundings.
The city I lived in before I moved here was grey all year around. Grey sky, grey river, grey buildings, grey people. In Berlin, with all its parks and trees, and its inhabitants who love living outdoors, the difference between summer and winter is huge.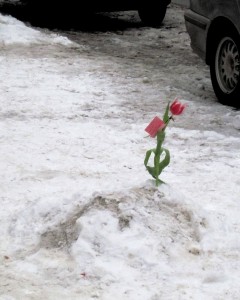 Snow doesn't stay white in a big dirty city. And in a poor city, it isn't cleaned away either. So it turns grey. Light grey in the parks, since smog and soot is everywhere, thanks to the traffic and the coal heaters. A darker shade on the sidewalks, where it mixes with the gravel. Almost black on the roads. Or it turns red and pink, where the remains of new year's eve fireworks are still hidden underneath. Or brown and yellow, since there are a lot of dogs in this neighborhood.
I remember one winter, which lasted for four months, when at Easter, it finally started thawing. And slowly, under layers of snow and ice, the confetti of New Year's Eve resurfaced in front of our house. When the never too fancy smell of this city became even worse, since four months of dog shit and piss thawed out in a few days time.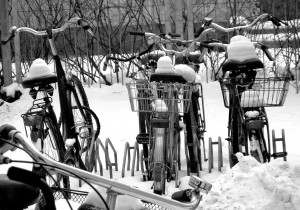 I remember my first winter here. When in October, after I peeled off layers of isolation when arriving at a party, a friend of mine (after giving me the nickname "Onion" because of all those layers) asked, "when do you stop riding your bike?" I didn't understand the question.  "What you mean, when? Till what time at night?". He sighed, and asked again. And I still didn't get the question. Till he reworded it: "When is it too cold for you?" I laughed. I'm DUTCH. There is no weather where we stop riding bikes! Until my first winter. When, stubborn as I am, I kept trying to go with my bike. With. Not on. I spend one winter pushing my bike through the heaps of snow the city workers shoveled from the bigger roads onto the bike paths. Or tried to maneuver the wheels of my bike without falling off through the frozen tracks cars made on the smaller roads. I gave up after that first winter and went native.
But there's plenty of people stubbornly refusing to admit winter has arrived.
Almost every small cafe still has tables outside. With ashtrays, candles and blankets. You see people trying to eat their food with gloves on their hands. The cutlery is just too cold to touch with your bare hands.
At a traffic light, a senior citizen is stuck in the snow with his wheelchair. I help him get unstuck, ask him where he wants to go. And end up pushing him over the icy sidewalks full of "false tracks" and through a park to his nursing home. How the hell did he manage to escape his nurses and get as far as those traffic lights? "I never depended on anyone" he grumbles, admitting defeat.
Also in the caves we huddle in, hiding from the cold and the grayness outside, the beat goes on…
At the foodsaving brunch, an small (smaller than me!) older guy with a very interesting face folded into itself, with a cap too big for his head protecting his ears and wearing at least two jackets on top of each other, takes some of the vegan potato mash. He puts in his mouth, munches, stares for a minute, munches again. Comes up to me. Accusing look: "Is there mustard in this?" Erm.. I don't know. Could be. We don't make the food, we only redistribute it. He groans, hands me his full plate. "I hate mustard". I point out there's plenty of other food, he should just watch out with the chili-sin-carne, it's pretty spicy. He groans again. "No teeth" he mumbles, looking down to the floor. Well, that explains some of the interesting folds. One of the other guests overhears the conversation, opens her bag, takes out one of the boxes with food she packed for her kids, and, without a word, fills a bowl with rice porridge and hands it to the guy. His smile is worth millions, even without any teeth.
A guy walks around the place barefooted, leaving little puddles of melted snow. Now I do know some people who, out of principle, go without shoes, and walk barefooted 7 out of 12 months (and somehow manage to avoid all the broken bottles or still burning cigarette butts). But this is mid-winter. When even the hard-headed fundamentalists of the callous-feet-church, abandon their faith and start to be practical. So I speak to him, and tell him about the free shop, where there might be shoes his size. He tells me this would be very unlikely, his feet are size 47, shoes that size are not common, and yes, pretty expensive. But I shouldn't worry, he does have shoes, they just need to get dry again, and points to one of the tables, where underneath, some really worn down sneakers and a pair of socks are standing close to five candles next to each other.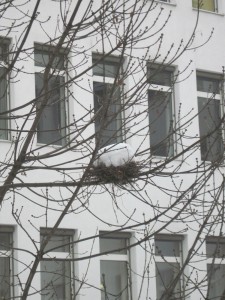 People tend to stay at the brunch far longer than in summer. Long after the food has been eaten or packed. Quite a few of our guests don't really have a choice about staying indoors or go outdoors. In a strange way, it improves the atmosphere. People tend to talk more with each other, socialize. But I really feel sorry for one guy who fell asleep on a couch, and who I had to wake up and tell to go outside, because we have to close the place up again.
It's winter.
By now, rain has come. The last remains of ice slowly melt away. I can't help myself. At every corner, I test if there's some lose ice, and kick a brick of dirty snow on the road, so it melts faster. Can't help myself. I hate the winter in this city.
But it will snow again. Snow which will turn grey, black, red and yellow. Just not green…