The dwellers of this city don't have many material resources. So they have to be inventive in many ways, but surely when it comes to moving bulky objects. And I don't mean the average pram with or without kid, painting equipment, a cello or just another mountain bike. Anyone living here has observed at least once how someone moved house, including laundry machines, their massive record collection, grandfather's clocks, tropical plants, couches, dog houses, fitness equipment or a complete aquarium system including fish, by using the extensive public transport.
Just a very few examples of what I've witnessed…
Taking a break in my shift at the free shop, I sit on the bench to drink my coffee. A few guys pass by, with a heap of wood on a skateboard, rattling over the cobble stones. They look a bit exhausted, so I point them to the coffee and tea we give out for free. Happily they accept the invitation, and after they find out it's a free shop, and has a music section, some discussion arises on how to securely stash the wood outside. After I wonder why they are so worried about a bit of wood, they show me pictures on their phone. Turns out this is the third partial transportation of a piano. Yes. In three phases. A complete piano. On a skateboard. When they find out we also have a piano in our shop (to be used, not to be given), their day is made… So is mines. They know how to play.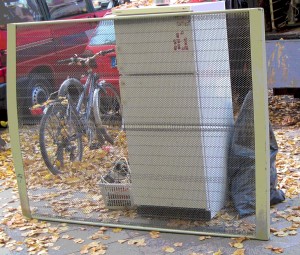 One of the first sunny days in spring I decide to spend some time in the park. I'm sitting in the grass, which is, according to a sign ignored by many people, not to be sat on. A shadow falls on the stuff I work on. I look up, and two guys carrying a huge two-person-bed-frame pass by. I overhear one saying to the other: "This one's better than the one we have, isn't it?" I guess, like so many people here, they regularly replace their furniture by what other people put on the streets…
Half an hour later, another shadow falls upon me. Two other guys. Crossing the park carrying a monumental, two by two meter abstract painting wrapped in bubble plastic. I just, well, acknowledge this and go back to my handywork.
Even if you have your own wheels, transportation can turn out to be hard, long, work. For the Foodsaving brunch, we pick up the buckets full of food from the restaurants with a hand-kart, with huge bags, or bike trailers, but sometimes we have the luck of doing it with a small electric car-sharing car, and it goes much faster. Well. That is. If all the buckets had fitting lids. If they stayed on top of each other. Of course, the one bucket which spills its contents is the one with waffle batter. Of course, that's the one where the lid didn't fit. Waffle batter is very fluid. And sticky. And runs fast… We end up removing not just the carpet in the trunk, but the cover of the backseats, the backseats themselves, part of the carriage under the backseats, and half the electric wiring underneath that. But we might not have been able to get rid of all the batter… We joked around of putting the heating on, so the batter would become waffles, and easier to remove. So if you step into an electric car-sharing car of which the backseat smells like freshly baked belgian waffles, that might be the one.
Awkward objects come in all shapes and sizes. Managing their transport can be hard work. On the way back home from a visit to nerd paradise I run into a group of young – obviously not so sober – streetpunks, completely dressed up in patches and studs. Half of the group is in front of me on the stairs, the other half behind me. As I take the last step up I hear one of the women of the group screaming anxiously. I look behind me. No worries. She stumbled on the steps and fell down, but managed to keep her beer-bottle straight. Though quite a bit of the beer stirred out of the bottle and gushes downstairs, most is still inside. Since the catastrophe is manageable, they move on.
Shift in the free shop. A woman runs in, out of breath. "My neighbor! My neighbor! He's putting plants in garbage bags to throw them away! And they're still alive!" Though the vegan crowd inside the shop doesn't mind a dead vegetable or two, if anything has even a remote chance of life, it should be saved. So quickly a human chain is built, people handing plant after plant along a few streets, from the evil neighbor to our place. A few dozen of plants are saved from the shredder, re-potted with bigger pots and the flower soil we coincidentally also had to give away, and consequently adopted. Though if they would survive the ride on the back of a bike under a luggage strap might be another matter.
Not just the human city-dwellers have to be stubborn to get their stuff where they want it. Taking a little stroll I stop on the sidewalk because right in front of me, a little sparrow is very determined to get this ONE twig for its nest. It must be the perfect keystone, or keytwig. Unfortunately, it's a bit big. Well.. actually at least 3 times as long as the bird. And hard to balance too, one end has far more side-branches than the other, making it heavier on that side, and also hard to get a grip when you have such a small beak. I have fun watching its determination for minutes: every time it tries, only to lose it a few feet, or wingspans, further. Another human passes me, and the bird flies in the tree, eyeing the wanted twig, now forever out of reach. I can't help myself. I pick up the twig, and put it halfway up in the tree…
For a nice illustration what you might experience traveling the Berlin metro system, including quite some awkward transportation, check out this vid (yes, I know it's an ad for the Berlin transportation company, but it made me laugh, since indeed, it is very recognizable):