Berlin is a musical city. There's very talented people playing in the metro every day (and quite some untalented, but that's another story). There's tons of gigs all over the city, every day. There's not even one "guide", on paper, or online, which will, or can, give a complete overview. And this is like, every day. Not just the weekend. Every day.
On workdays however, when four bands are playing in one place, because of the "neighbor-problem", the set of each band will be too short. It doesn't matter though, if it ends up with the the audience drumming on stage, and the singer/base-player in the audience. Quality over quantity is the attitude by now of both bands and audience.
Sometimes you have to chose unfortunately.  But when you're lucky, you can combine two gigs, depending on where the neighbors start complaining on what hour and the bands have to stop playing (Prenzlauerberg and Mitte around 10pm, Kreuzberg around midnight, Friedrichshain, well.. errmm… you relocate the band to a park or so) . And if you have a good mode of transport. A bike works pretty well.
It can be risky though.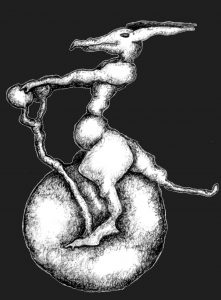 On a workday, traffic around 8pm is busy. Late-shift-commuters meet the early party tourists. So, on the 15 minute bike-ride from Friedrichshain to a gig in Kreuzberg I got almost driven over by a bus, two taxis, and a wheelchair.
Yes. A Wheelchair.
Not to mention I almost drove over a woman on bike staring at her phone, and quite a few tourist who don't have a clue something like bike paths exist.
Oh. And this is Berlin. So on the way back you see a guy taking a pic of his girlfriend on the Oberbaumbrücke, she wearing nothing more than a latex bikini, a floppy hat and an open raincoat. It was after midnight, temperatures drop to 5 degrees celsius.
Another taxi driver makes room for you to pass a cop car in full alarm, parked on the bike lane, with a roadwork in the middle of the bridge and the tramtracks somewhere there too, because something happened again at the RAW again (how come they station 300 cops for months in a row in front of a squat, but they can't seem to manage what happens at the RAW, where there's actually crime, and victims..).
At the boxi square, after avoiding clashing your bike into many tourists again, and again, you pass a couple of guys pushing a cart which was filled with the usual protest gear. I almost shouted "which demo did I miss this time?"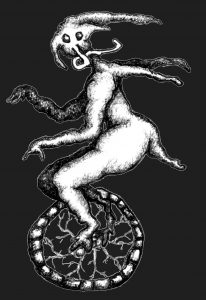 Oh, and of course I forgot to bring a bag to the gig. Even though I KNOW I will buy vinyl at an event like this. Long the multi-functional pali shawl, which can be folded in anything including a bag. And then awkwardly holding it with one hand, while preventing accidents with your other hand when driving a bike through Kreuzberg & Friedrichshain on a night out… One eye on the traffic, one eye on that (hopefully still) unbroken record.
Still very thankful for that one taxi driver, who made room for me and my fragile record.
Note: all doodles made by myself when enjoying the not-so-risky public transport. See Twisted Kritters if you want to see more of them.