(Follow-up to my most recent post about the Danger Zone...)
So… Today the court decided the partial eviction of the Rigaer was indeed illegal, and neither the owner of the house, or the police were in their right to violently clean those rooms out.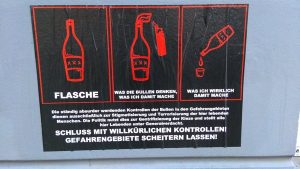 They now have to evict the premises, and give them back to the former users.
With help of the bailiff.
Here's the link  and here a vid , where the senator tries again and again to duck the question: why did he evict the premises, if there was no document available to justify this eviction, nor for keeping a huge police force at the site for weeks?
I SO want a video of this: A bailiff, possibly with police support, kicking the security of the owner and the police supporting the owner out.
And in the mean time, Henkel, the senator responsible for the danger zone, still refuses to talk with the people from the neighborhood about the whole "your civil rights are suspended here" thing.

Possibly because by now he has A LOT to explain:
personal data of people searched in the danger zone ending up straight from the police files on nazi websites

the only person caught hot-handed burning cars down, turned out to be a Pegida activist, and a police informer

it was the testimony of this police informer on what's going on inside the Rigaer house which was one of the basics on which the danger zone was installed -> hear-say around the neighborhood (yeahyeah, I know….) says when the guy was exposed as a police informer & kicked out of the scene some time ago, one of his last words was "I'll get my revenge"…

now it turns out the eviction of part of the Rigaer was illegal. And this senator, who keeps referring to "respecting the legal state", obviously had his own interpretation of "legal, illegal, scheißegal".

Well… I wonder how he'll make up for the destruction of the inventory of the pub, the kitchen for refugees, for the destruction of the inner house garden, and the weeks of in-house heavy surveillance of the people living there, including bluntly refusing visitors entering the house after 9 pm…
Of course, the article ended with a reference to the "riots" of last saturday. Something the senator keeps referring to too. Which I seemed to have completely missed out on, though I was present at the "scene of crime" for three hours…
And I do frikkin hope it's the end of the political career of this "hawk", and the end of the Danger Zone (hey, we can keep dreaming, can we?).
If you want to follow the party in the Rigaerstr: here's a live blog from a local newspaper.
Yes, that's quite a bit of confetti 🙂