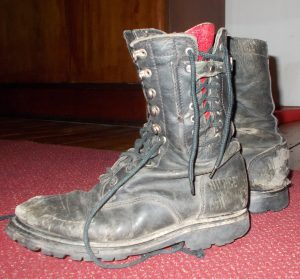 Some 20 years ago, I walked past a "girlie boutique" (yes, the one's I never frequent) which had a sale. In the window, a pair of heavy boots was for sale for only 5 guilden (2,50 euros). I bought them.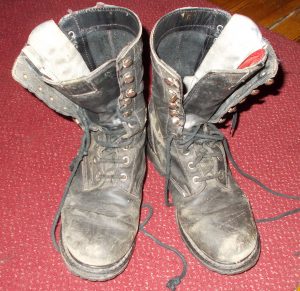 And wore them, and wore them. I think everyone knows me on these boots.
After 20 years of hiking up and down jagged mountains, carrying me through snow and heavy rain showers, after 20 years of wild dancing on parties, months of heavy work on the ship, and 20 years of muddy festivals… After at least 3 times new soles…
They have holes in the leather itself… They're goners…
And I want them back. Or the same ones.
Now, I never really discovered a "brand" on them. Only a serial number (yes, seriously), and "hilace" as the type. Only after examining them this weekend, I found two small letters "A&A". Which is probably the brand.
And the only thing the internet gave me is a small shoe manufacturer which makes fetish shoes.
Don't tell me the best hiking boots I ever had were actually a pair of fetish boots…
P.S. Of course some people will be curious about the manufacturer. It's indeed a very small, very specialist, british company called A&A Shoes Ltd.