Ever since I started volunteering with the foodsharing and the free-shop, I've become more and more familiar, and known to, the people who have no choice but to live of the scraps of this society. I started this work to preserve resources, mostly out of an environmental perspective. But I've learned a lot about how it is to lose out in the rat-race, never been able to participate in the first place, or restart from absolutely zipzeronothing again.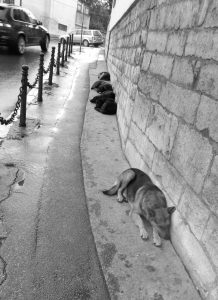 Even though the foodsharing brunch is history, since the place where we gave out the food has been gentrified away, every homeless person knows me, and asks if and when the brunch will be started up again. I guess I'll never get rid of the nickname "Lady of the cold kitchen".
So much stuff, but still..

I meet many of the former guests at other initiatives: when I bring bread to the "Cold Aid" for the homeless. The queue starts at 6pm, even though the place only opens up at 9pm for people to sleep. The main language in that queue is russian. 99% of them are healthy, broad-shouldered males. They are the so-called luck-seekers. I've met some of those "economical migrants" back on the Balkan. When they shared their stories about being exploited in the EU. And still earning more, or at least something, than back home. They just laugh cynically when I ask them "why don't you organize, why don't you unionize?". For each "luck-seeker" protesting against being exploited, there's 10 who won't protest. I meet them when I go to the bank, where I can open an account, and pull money out of the wall. For months, a Rumanian sat there begging. One of the people who did contracted, legal, work here, and never got paid. Since the sub-sub-sub-sub-contractor simply disappeared.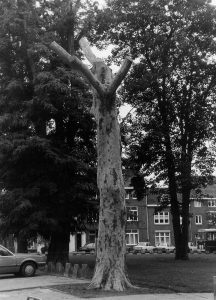 Other people fall through the holes in the "social" net. Because they are mentally unstable. The homeless woman I'm joking with one day, when she found a wok in the free shop  "woman with wok looking for room" next disappears for months. Then she comes back. She only comes back when she's mentally feeling good. Otherwise, she hides. Under bushes. Trying to grab a few hours sleep in a shopping mall, until she's kicked out. Too afraid of people.  Too afraid to take care of simple stuff, like getting her allowance from a bank account. Too afraid of filling out forms, and answering questions of strangers. And she's a nice, friendly, open woman. She shared the story of her trauma with me. What happened to her as a child. And I understand why she is so afraid…
At the free-shop, sometimes clothing is hanging there for months, or too damaged. So, to make room, we hang those pieces on a "Stand of the last hope" for another few weeks, then bring it to other places, or, as a last resort, to a clothing container so it can be recycled one way or another. When I bring a huge bag to one of those containers on a cold evening, a guy calls me from the other side of the fence "is there anything warm in that bag?". Shivering in his way too thin jeans jacket. Another "luck-seeker" from east from here. Since I know there's nothing useful in the bag I'm carrying, I tell him about the free-shop. One week later he pops up.  Carefully selects one coat, a warm hat and some gloves. Next week he's back. Taking a friend of him with him. Showing him the children's clothing. I hear him explain how we work, and the other guy politely listening. Also, that you can bring the stuff back, so other people can use it, and re-use it, and re-use it again and again. Funny how poverty makes people environmental friendly…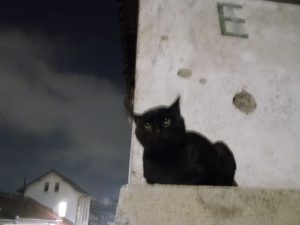 When the weather is a bit ok, we put some stuff outside in front of the free-shop. Sometimes people are bit scared to come in, and we're very much aware of that. I'm hanging some more clothing on the stand outside, and a young woman approaches me. "If there's anything you can't sell, could you maybe spare it for me?". I look at her. Point to our sign. It's a FREE shop. Anything is for free. Seeing she's a little shy, I take her inside. She just stands there, looking at the racks of clothing. Looks at me. "For free? All for free?" I say yes. "The books too?" I say yes. Her jaw drops, literally. And she starts jumping a bit up and down and dances in place. Turns around and gives me a huge hug. She takes very little, just a few pieces of clothing and one book. No place for storage when you live on the streets.
In the face of surplus, need can turn into greed, or into giving
Unfortunately for others, everything for free opens all sluices of hell. That's why we have the rule of "no more than 5 pieces per person per visit". Unfortunately, we have found our free stuff being sold on flea markets, in second-hand-shops or online. Recently, a second-hand shop opened up a few houses from our shop. You do wonder who would be stupid enough to open up a second-hand-shop this close to a free shop, but still. The joke in our little collective was immediately "well, at least they don't have to worry about getting supplied". And we already did spot one of our guests immediately stopping at that shop after leaving ours.. Of course, the stuff at least gets re-used, but one of our basic ideas is an economy based on giving, not on greed.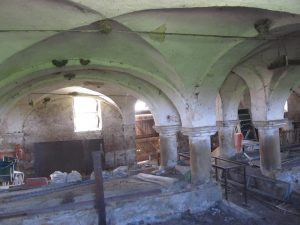 But sometimes it's hard to stick to that rule, if you know people need it, like children's clothing. Or, if a refugee family finally got their own place, but still need all the basics, cooking utensils, bedding. So we keep that rule loosely. However for some people, it's just hard to not get greedy when facing so much stuff. We had to throw people out because they tried to take our speakers, or our own pots & pans. "But I need it". So does everyone visiting our shop. Or our collective old guitar. Even putting it up in at least 5 different languages doesn't help, if a guy tries to take the guitar (which spells on all sides "not for free, inventory"), and you ask, "can't you read?" and he simply answers "no". He can't read….. This is how unfortunately some stuff we actually needed (a small lamp at the old pc we have for people to use, a little thingie we used for storing small stuff like jewelry) disappears…
However, people learn, and can completely turn around. We had to warn an elderly refugee couple multiple times, and I even went as far as packing out their bags, waving fingers about "no more than 5" until I realized I was actually unpacking her personal handbag… But they settled. And probably realized the free shop would always be there. And always full. So they started bringing stuff back they didn't need. And now, every time they visit, first they bring us a pack of coffee, and a few packages of juice, and usually some sweet stuff. Then they disappear to the back, unload stuff, and yes, take stuff again, but no more than 5 pieces per person per visit.
Just like a little girl, also a refugee, quickly runs into the shop, drops the hat she's carrying in the hat box and runs out telling us "I don't need it anymore, someone else should wear it, it's a beautiful hat". Oh yes, another one of those people only coming here to abuse our wonderful western system. Right. They have more respect and understand the principles of "giving" quicker than quite a few of our regular, native, guests who come here every day, for years now, and still try to sneak out behind our backs with more than the 5 items. Heck, I even had a good-looking, well-clad woman asking another guest to distract me so she could run out with a small bag of clothing, probably holding 7 items instead of 5.. I just looked at one of our other regulars and asked "did someone just actually tried to trick me so someone else could "steal" in a free shop?" That kinda behavior I can only meet with contempt.
Needs that can't be fulfilled…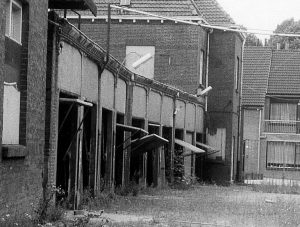 When it comes to true needs. Socks. We can't have enough socks. It sounds crazy. Socks are cheap right? But yes, socks. This friday a homeless guy came in. You got socks? I point him to our socks place. It's always close to empty. He sighs, yep, socks are hard to find. We have tons of everything, but socks go like crazy. Socks and warm long underwear.. He didn't look at anything else. Just socks he needed…
Living on the streets is even harder for a woman. Since there are only a few shelters with a place for women. And if no woman shows up til a certain time, they give the bed to a man. Homeless people are easy victims. They get beaten up more than most people. And this can be devastating.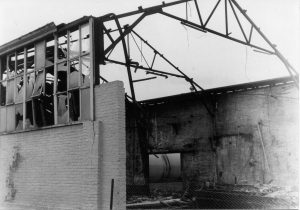 One of our regular guests was doing well. She was looking better and better. Sometimes kept our toilet busy for 30 minutes, came out all made up with a new set of clothing, and the toilet smelling like cheap parfum for hours. Ok, most definitively not my style, but each his own. A few weeks ago she came in, I hardly recognized her. Wearing a hoodie, cowering. Her face one big mess. Hands shaking. Wrong time, wrong place, easy victim. Gone was all her confidence. Gone was also her concentration. Panicking cause she couldn't find her bag. Which we later found outside, forgotten on the bench in front of our shop. One incident. Back to square one. And there's nothing anyone can do about it…
Not even the officials can say how many people are living on the streets in this city. Guesses go between 3.000 and 10.000. Why? Because many don't show up in the statistics. Since they're illegal. Looking for work, and not having any luck. Or they did work here, and never got paid, and are too ashamed to go back home. Or, because their mental condition is so unstable, they simple don't show up in anyone's dossier. Strangely enough, those are the people who tend to give, even when they're the ones lacking almost everything.